"We are powered by the belief that
A Better World is Possible"
Mission
One in four people in the United States lives in a condition of "asset poverty." After being unemployed for three months without income, people are forced to turn to friends, family or public assistance to meet their basic needs. People are not able to invest in their futures or human potential. There is a shortage of affordable, accessible and local investments to people who have faced difficulty in their lives. The Community Investment Trust (CIT) builds the possibility to strengthen communities and create empowered lives. The CIT offers a long-term path to collective, communal ownership of real-estate for investors starting from $10-$100 per month. Ultimately, we are committed to working together to build more just, productive and resilient communities across the country.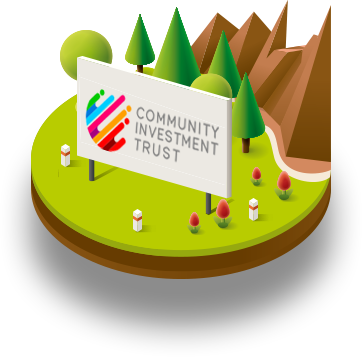 Vision


We believe in:
Ability: The ability for all people to thrive, not just survive.

Initiative: People will take action to create greater change in their lives and communities.

Opportunity: Opportunities for real estate investment should be accessible and affordable to all.

Collaboration: The experience and expertise of others will help achieve common goals.

Community: A group that shares ownership will help themselves and build resilient communities.
Leadership
The Community Investment Trust (CIT) model was developed and launched by Mercy Corps. The East Portland CIT Corporation is managed by a board of directors with expertise in the areas of law, real estate, community development, economics, and finance.
Staff
John W. Haines

Executive Director

(503) 896-5072

Sven Gatchev

Director of Operations

(503) 896-5073

Yonas Kassie

Owing to Owning Class Facilitator

Jennifer Hardnett

Owing to Owning Class Facilitator, EP CIT Board President

Mustafah Finney

Owing to Owning Class Facilitator

Olena Borova

Implementation Manager

(503) 919-8273

Helen Dally

Community of Practice Manager